You want to create some Facebook ads; good choice! You set up your ad account, you have everything ready. You click on create campaign and this big mess comes up: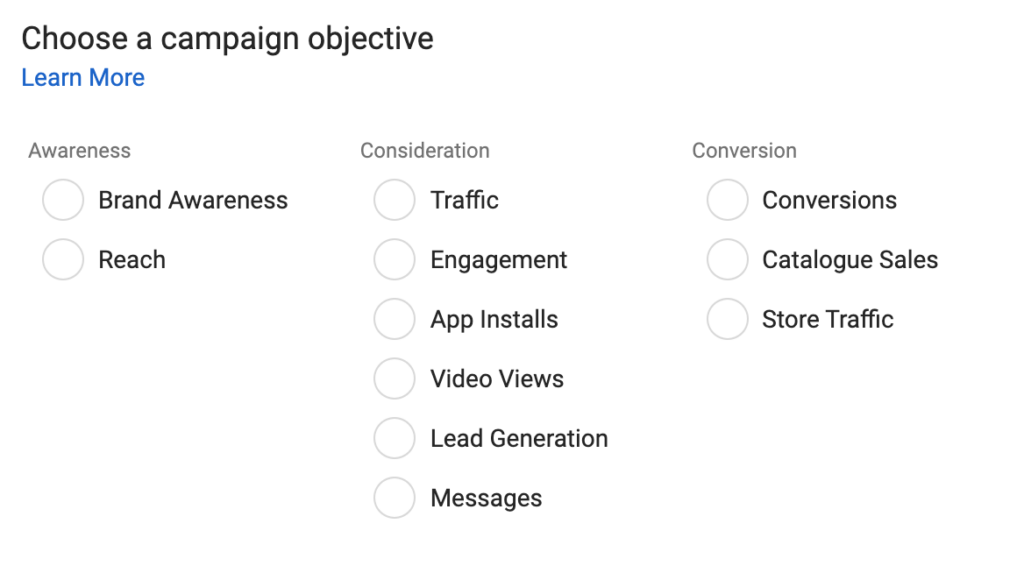 It's important to choose the right objective, as from our experimentation it is one of the biggest influencers on our ad campaigns. In fact, we have seen nearly a 3 times better return on investment when using the correct campaign objective as opposed to ones that don't make much sense for the purpose.
However, it isn't difficult to figure out which campaign objective is the right one to use for your purpose. In this article, we will go in depth into each campaign objective to help you understand which brand objectives will give you the best results.
What are Facebook Campaign Objectives?
Facebook Campaign Objectives are a metric of success Facebook uses to maximise the results of their ads. For example, if a business wants nothing more then traffic to their website and doesn't care about sales, Facebook will show the ads they create to people who are extremely likely to visit the website. These people however might not be interested in purchasing anything!
Furthermore, Facebook Objectives also influence the call to action (also called CTA) that Facebook will display with your advert. If you want people to message your page from an ad, it wouldn't make sense to choose App Installs as a campaign objective!
Why its so important to choose the right one
Facebook machine learning is incredibly intelligent; it understands patterns of behaviour of all of their users more than we can imagine. This means it is able to understand when someone is likely to visit a page or add to basket, or purchase. As a result, if you want people to visit your page and you correctly set the ad up, Facebook will deliver your ads to people who will visit your page.
Furthermore, selecting the wrong campaign objective will burn through your ad budget and give you very poor results. We have seen plenty of E-commerce stores set up their ad objective to Traffic, and not understanding why no one is buying anything!
11 objectives and when to use them
Let's get into the details. We will run down all of the available marketing objectives, explain what they are, when you should use them, and how to maximise results!
Brand awareness
This objective maximises your brand exposure to a new audience, as well as retargeting your cold audience (also called "top of the funnel"). It maximises impressions, but specifically serving to an audience of people who are likely to remember your ads.
Generally, we don't recommend this objective unless your ad budget is more than £200 a day. This is because you usually see a very small number of sales and which results in a really low return on ad spend. However, this is a great way to introduce a brand or new business as it gets you the highest possible impressions.
Pair this campaign objective with high contrast and memorable and catchy ads and you will see a great result in the number of impressions. The most frequent error we see is businesses using an overly complicated copy which is a big NO. Keep it short, sharp, and sweet to maximise results.
Reach
Reach objective simply puts your ad in front of the largest number of people possible. Unlike brand awareness, Facebook ignores whether or not the audience will resonate or remember your ad or branding. As well as that, the ad frequency is usually very low as Facebook aims to show the ad to each person once. However, the impressions are usually high as it aims to show it to as many people as possible.
This campaign very much uses the "quantity over quality" idea, but it has great uses! If you have no idea who your potential audience is, or if you are simply trying to identify a new audience that resonates with your brand this is the right objective to choose. As with brand awareness, we don't use this one too much as it is very expensive and returns next to nothing on ad spend.
However, if you do choose to go ahead with this objective a great headline, copy and media is crucial for success. If any part of your ad is not perfect you will see a huge reach, but a very disappointing result past that. Funny ads usually perform best, as it applies and works on nearly everyone!
Traffic
Getting into the consideration section of marketing objectives, we start with traffic. This tells Facebook you want the largest possible amount of traffic into your website. How they achieve this is by putting your ad in front of people who are known to follow ads through to websites. You will not see as big of a reach as in brand awareness or reach campaigns, but you will see a much better conversion with a potential of a good return on ad spend.
As a rule of thumb, this is among the first three objectives we try with new businesses and clients. People who visit your website add to your Facebook Pixel data which is crucial for the expansion and scaling of campaigns. We usually implement a signup form onto the landing page to catch any potential leads as soon as possible.
To maximise this, you NEED a perfect landing page. Anything from perfect will decrease performance and could lead to poor conversion and in the end, poor return on ad spend. If you have no idea how to write great landing pages, we recommend following this guide by Hubspot.
Engagement
As the name states, this objective is all about engaging with your existing or new audience. There are three sub-objectives: post engagement, page likes and event responses. Event responses is only used for Facebook events marketing, so we don't have to worry about it!
You should use the post engagement objective when you are trying to increase the reach of a post. Maybe you are running a giveaway, or you have a great offer on in which case this objective is great. Page likes is a good way to increase the number of Facebook page likes which adds social proof to your brand, so if this is something you are trying to achieve then we highly recommend this objective.
Giving value and having strong branding is important. Don't pay for advertising if you still have the default Facebook Page letter logo! As well as that, make sure you already have plenty of content to provide people who are seeing your ad. Don't use this objective if you haven't got any, or much, content on your social pages.
App installs
Although a very niche objective, it is a very important one. App installs objective maximises the number of people that go and install your app from the app stores, simple!
As you can imagine, this ad objective is only suitable for when you are trying to get people to download your app. You will need to have a Facebook App SDK installed and set up to ensure you can fully use this objective.
A great ad copy and media will go a long way to provide fantastic results. However, your app also needs to be desirable and usable. No point advertising an app that doesn't work properly!
Video views
This campaign objective can be extremely powerful if utilised properly. By maximising the reach to people who are likely to view more than just the first 3 seconds of your ad, this objective has huge potential for incredible results.
If you are selling a product or a service that is difficult to explain in 30 words or less, this is the perfect objective to choose. It will give you the ability to create a video ad that explains and sells your offer effectively in a way that an ad copy wouldn't be able to.
I don't want to be captain obvious… but a great video is a must. Use an effective hook in the first 3 seconds of the ad to ensure you catch the most eyes immediately. Avoid poorly recorded or edited videos, as these are usually a huge turn off to your audience.
Lead generation
One of the most interesting campaign objectives is lead generation. It allows for a really quick and convenient way to find potential leads for a SAAS or B2B businesses, but has its strengths when utilised for B2C applications. This objective delivers an in app form for your audience to fill, allowing you to capture names, emails, phone numbers and more. As this is built in straight into the Facebook app, your audience usually won't need to fill anything out as Facebook will automatically fill this in. Super easy, convenient and quick for both sides!
As mentioned, this is extremely powerful for SAAS or B2B businesses. If your business relies on leads and lead generation this is absolutely the campaign objective for you. The convenience and speed it gives to your audience is extremely powerful and allows you to capture leads a lot easier and quicker than through a landing page.
Ensure you have a great offer to maximise this. Put yourself in the customer's shoes: why should they give you their email address or phone number? What are you offering in exchange for this? The usual offerings of free guides, free courses or seminars work great and we have seen fantastic results with these. In short, offer something of value and your audience will be happy to find out more!
Messages
Facebook's built in messaging platform is a great way to communicate with your audience. We have seen many clients utilise it to do half of their business! This objective increases ad exposure to people who are likely to take action and send your Facebook or Instagram page a message, which is a great and quick way to communicate with potential clients if you are offering a service.
This objective is not great for product sales, we experimented with it and it doesn't work. However, it is a great starting objective for when your pixel data is low and you have a low following. The quick option allows for people to directly message your page to find out more, but also gives a trustworthy feel to the interaction as the audience doesn't have to leave the Facebook app to proceed with contacting you.
Just like with the engagement objective, solid ad creative and copy is crucial. And just like with the lead generation objective you have got to give a reason to message. From experience, an offer is a great way to encourage high conversion. For example, "message us to find out how you can get x% discount" is a favourite and has seen great results from this ad objective.
Conversions
Conversions is by far the most powerful, best performing and the one campaign objective we recommend using time and time again. By setting up conversions properly, you are able to utilise this ad objective to maximise end objectives from bottom of funnel such as purchase. We have seen this objective create the highest return on investment and when set up properly it is guaranteed to provide fantastic results.
Whether you are selling a service or a product, this objective is the one to use. For products, make sure to set up purchase as your conversion event, and for services either a purchase (if your service is purchasable online) or contact form submission. Think of it this way, what does your client need to do in order to pay for your product or service? Do they need to purchase online, or do they need to get in touch? That should be your conversion event!
Just like with traffic, a fantastic landing page is necessary. Without it, you will see a huge amount of link clicks and impressions but with low conversion rates. If your website is attractive and well optimised, you will see a huge percentage of people who visit and end up converting in comparison to the other campaign objectives.
Catalog sales
This objective uses the Facebook catalog feature to bring an in-app way to sell products. If you run an e-commerce store or have products to sell online, catalog sales allows you to import your product directly into the Facebook app. Allowing you to provide a convenient way for people to browse your products without visiting your website. Therefore, this objective maximises the number of people who see your catalog but can also be dynamically optimised for the viewer to ensure they see products they are most likely to purchase.
Catalog sales is a fantastic objective to choose middle or bottom of funnel, where the audience has already seen or learnt about your brand but just need one final push to complete their purchase. This however is not an objective for service businesses, as it is not recommended to set up catalogs with services.
Branding and great products are a must for great results. Make sure your catalog is set up correctly, and that your Facebook pixel is also correctly set up and running to ensure that dynamic product placement works. This is the number one way to create powerful and converting ads using the catalog sales objective!
Store visits
This campaign objective is hard to recommend to anyone who hasn't got multiple physical location businesses. It brings your ad in front of people who are located nearby your physical store locations, but are also likely to actually visit. As the name implies, if you don't have a store this definitely isn't an objective you should consider!
As mentioned, you could use this objective if you have multiple store locations. Moreover, if you have set up a new physical store it could be a great method of increasing footfall. Bare in mind, it is difficult to track the success of these campaigns as you cannot ask every store visitor whether they found you using your ads!
Great ad copy and an attractive physical location are again, a must. If you have a great ad copy but your physical store is lacking, people will visit but be disappointed with their experience and thus won't convert. Likewise, if you have a poor ad copy they might get the wrong impression of your business!
Conclusion
Choosing the right campaign objective is no easy task; if you choose the wrong one, you will end up spending all your ad budget with little result. This is the number one reason people claim Facebook Ads are not powerful, and why people end up spending hundreds of dollars with no sales!
We hope you learnt something from this very in depth look at all of the campaign objectives. There's a lot to take in, but we hope we gave you a good insight into which objective to choose for your ad campaign!
If you are looking to maximise your digital marketing strategy and utilise Facebook Ads, get in touch to see how we can help!
Which Facebook Ad Objective do you use? Which objective have you wanted to try? Let us know in the comments below!